London Garden: Major city, no cars
London Garden. Imagine it—a city consisting only of buses, taxis, and bikes, where energy is constantly being collected and recycled between all pieces involved. Aside from public transportation, this would make London a car-free zone.
See, as described in one of the images in this post, traffic is so bad in London that the average speed is 10mph, "which is nearly the same speed as when we used to travel with horse and carriage." So more and more, bikes are becoming the preferred mean of travel.
Envisioned by Sweden student Mårten Wållgren and three others, London Garden won a Seymour Powell award for best concept in the "Future City Mobility" design competition.Wållgren describes the project as follows:
"The brief was basically to look at the traffic situation in London for the year 2030. Our concept was to create a car-free-zone in the central of London, called London Garden. Inside this zone we developed a system created around bicycles. Allowing a special designed bicycle/scooter to be well integrated with the infrastructure as well as becoming a part of the interior of the buses and taxis. Inside London Garden, the users have more awareness of the individual energy consumption. In fact, the energy that you create while biking is used as a currency while docking the bicycle into the bus or taxi."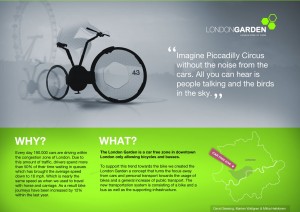 What I find most genius about London Garden is how everything seems perfectly integrated. Ride your bike to a bus stop and use the energy you generated while riding your bike to pay for your ride. How? The bike folds and becomes a bus seat, contributing energy to the vehicle in the process.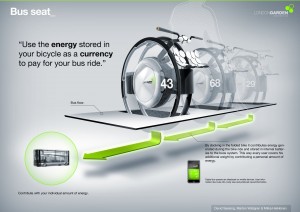 If you're in the mood for a little work out when you get off the bus, just switch the mode on the bike to make it more challenging to pedal. Doing so not only helps you break a sweat, but also pumps more energy into the bikes battery. And once you get tired, switch the mode again it you can just ride off of the power of the battery without having to pedal at all.
I'm noticing that a lot of new designs in fields like architecture and packaging have features with multiple purposes that can switch from being one thing to another with ease, and I can see this spreading to the web industry at some point in the near future.
If you would like to see more concept art of the London Garden, visit Wållgren's blog. All of the photos used in this were taken from there so all credit goes to him.
Tags: bicycles, design, energy, london garden, traffic
This entry was posted on Friday, July 31st, 2009 at 10:07 am and is filed under Inspiration, Philosophy, Technology. You can follow any responses to this entry through the RSS 2.0 feed. You can leave a response, or trackback from your own site.