Experimental Sites
One thing I've been thinking about a lot recently is the idea of doing experimental sites. By experimental, I mean sites that might not serve any particular purpose. One such example is We Feel Fine, a site that searches the web for the phrase "I feel" and "I am feeling" and displays the complete sentence in unique ways, essentially make a work of art out of the feelings people share on the internet.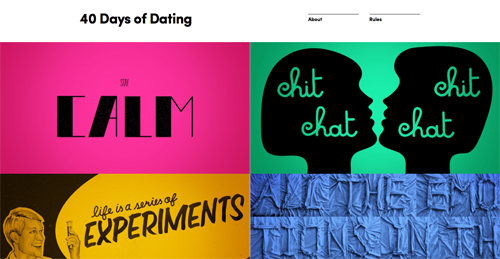 Another site that I recently bumped into is Forty Days of Dating, which follows two relationship-challenged designers who decide to date each other for 40 days and write about it. The site is split in half with the left side being Jessica's journal and the right side being Timothy's. It's very interesting seeing two different perspectives on the same event, how one will be thinking something but not purposely express it and the other would notice it. Or one person would want something and the other doesn't.
Both of these sites have inspired me to think of ideas for sites I can develop that serves no purpose other than to explore and be creative. To just play and learn.
Tags: design, experiments
This entry was posted on Saturday, July 27th, 2013 at 7:17 pm and is filed under Inspiration. You can follow any responses to this entry through the RSS 2.0 feed. You can leave a response, or trackback from your own site.